Hot Snake Time Machine are Coming!
Yes, Simon, Johnny & Dan will be playing on Weds 18th July 2018 at The Betsey Trotwood, 55 Farringdon Rd, London, EC1R
3BL. Also on the bill are Art Theefe (from Oxford) and Suspicious Objects (from London & Italy)!
See 'Gigs' page for more info.
OLD NEWS
Big thanks to everyone who came down to What's Cookin on Saturday 30th Sept to see Hot Snake Time Machine play their first headline show.
Special thanks to Becs for spinning the discs and Paul Docker for stepping in at short notice to take care of everything else!
For anyone interested, the set list was :
Big Blue Bus (a Simon song),
Never Ever (a classic by The Action)
Homecoming Mum (from Tommy Hale's recent album Magnificent Bastard),
I'll Be Around (from the first Snakes album)
Maisy Jones (a song by 60s band Nimbo)
I must be in a Good Place Now (by Bobby Charles),
Back Burner (from Tommy's album again),
King of the New York Streets (by Dion)
The Last Days of Rock & Roll (Snakes 3rd album).
Libertine (from Tommy Hale's 2nd album)
encore :
The Nightmare of J.B. Stanislas (the title track from Nick Garrie's 'lost' classic album from 1969)
The Band Played On (from the Snakes' 3rd album)
Hot Snake Time Machine were :
Simon Moor (vocals & guitar)
Johnny O (bass & backing vocals)
Dan Tilbury (drums & backing vocals).
The support act was Dark Globes.
p.s.
Thanks also to everyone who came down to the previous What's Cookin' Hot Snake Time Machine gig.
The set list was :
Big Blue Bus (a Simon song),
Homecoming Mum (from Tommy Hale's recent album Magnificent Bastard),
Back Burner (Tommy's album again),
I must be in a Good Place Now (Bobby Charles),
Turn Back The Clock (Snakes 1st album)
Maisy Jones (a song by 60s band Nimbo)
The Last Days of Rock & Roll (Snakes 3rd album).
Gathering of Snakes
It doesn't happen very often, but there were more Snakes than you could shake a fist at gathered in a garden in Barnet for Simon's birthday recently. Simon, Richard, Alex, Dan, Johnny & Chris, plus producer Nick. Alas, only Johnny & Dan got up to play some music. Close but no Eight Ball!
Tommy Hale UK Tour!
We're back home now, the tour is done! Thanks to everyone who came along to see us, from Exmouth to Edinburgh and various towns along the way (you know who you are...do you?) Anyway, we had a great time, all the time. And we saw Stonehenge! (No...we didn't play Stonehenge!)
RIP Barry
It is with great sorrow that we heard recently that the great Barry Marshall-Everitt has left the building, gone to the great gig in the sky. Barry was a friend and supporter of The Snakes since the band started, putting us on at The Borderline and promoting the band on his Radio Show, House of Mercy. The Snakes send their condolences to Bex and all Barry's family and friends.
Music to look out for!

Apart from the fantastic Tommy Hale album (see below), there have been a few other releases of late featuring Snakes : Johnny plays pedal steel and some bass on the new album by James McArthur & the Head Gardeners (the album Burnt Moth came out in January 2017). Johnny again is also all over the new Mark and The Clouds album, Cumulus. It was released by Mega Dodo Records in February 2017 on vinyl, CD (first issue of the CD comes with a free live album) & download.

Look out also for an album by Anna Page called Stars & Rockets, which features Johnny, Dan & Nick Beere.




The New Tommy Hale Album is Out Now!


You remember Tommy, our pal from Texas?


Well, the album was released late September 2016 and is titled Magnificent Bastard (see photo) and The Snakes are all over it!

Simon Moor produced the album and played guitar, Dan Tilbury played the drums, Johnny O played bass, pedal steel, electric & acoustic guitars and backing vocals and engineer Nick Beere played keyboards, theremin, slide guitar, etc. All songs (except one cover) are credited to Tommy, Simon & Johnny.

We expect to play some shows in April 2017.

Reviews are coming in at the moment and have been very good :

And the title song was selected as one of the best tracks of the week by Classic Rock Magazine!

More news later on.


Creedence Clearwater Revival Revival

Pete Smart has started a new band! Yes, that's not a typo, he's formed a tribute to Creedence Clearwater Revival (hence the extra Revival!) Pete is joined by fellow Snake alumni Richard Davies on guitar & Chris Jones on drums, with Tim Emery from Case Hardin on bass. The guys supported Tommy Hale & The Magnificent Bastards in Swindon & Bristol on the recent Tommy Hale tour (something of a mega Snakes reunion, with Simon, Johnny, Dan, Richard, Pete, Chris & Nick Beere all in the same room).


Original line-up spotted near Wales!?


Yes, Simon, Rich, Dan & Pete were reunited for the Wedding of Alex & Laura, Alex being the original bass player, of course.

Richard has also recently got married.

Congratulations all round!

Meanwhile...

Simon & Johnny are five songs into a new album.

It's very much a studio project at the moment, with Dan Tilbury & Chris Jones playing drums, but there will be some live shows in the acoustic duo format (Simon on guitar, Johnny on pedal steel) sometime soon...see the

Gigs page

!
Q Here...
Three *** Review in Q Magazine.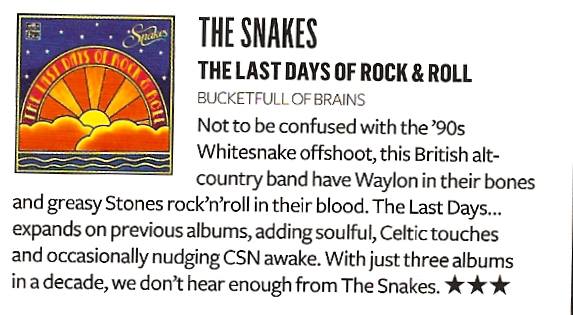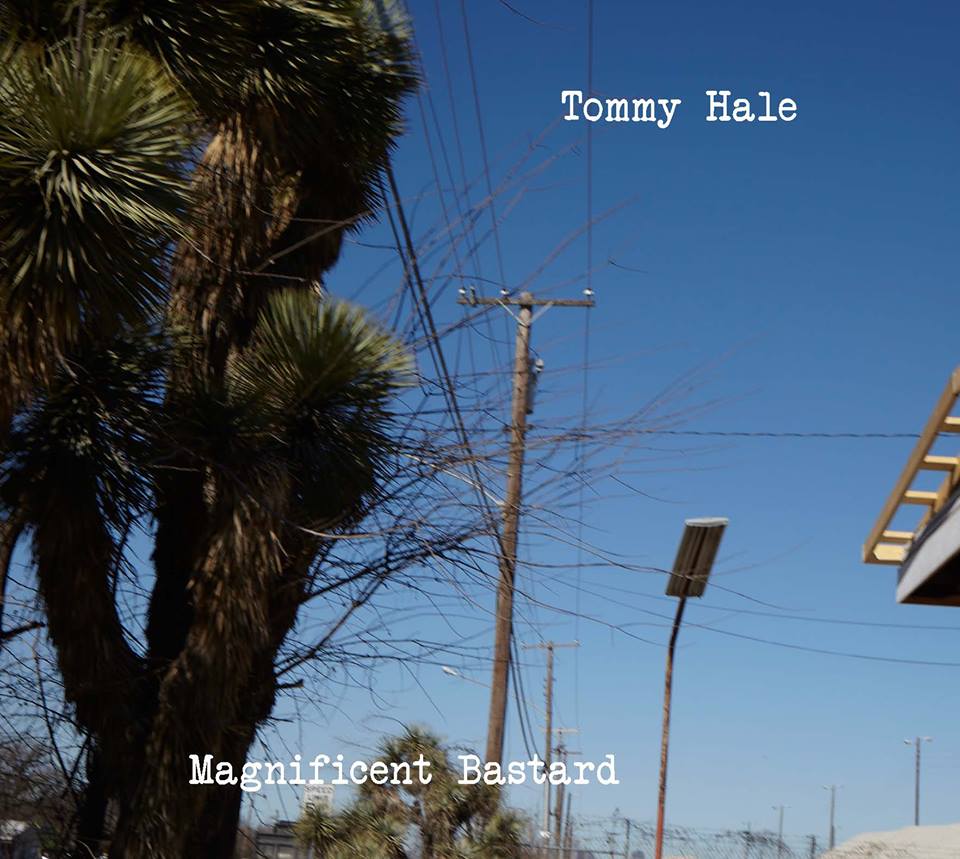 Interviews.

It's a bit old now, but there's a nice big feature on The Snakes in Bucketfull of Brains No.82 (the one with Danny & The Champs on the cover).

And not only but also, a great half page piece in R2 Magazine as well (the one with Robert Cray on cover).
VIVE LE ROCK!
The Snakes are back in Vive Le Rock, this time with a cracking album review. 8 out of 10 for The Last Days of Rock & Roll.
It's in the issue with Sisters Of Mercy on the cover.
Hope you also got your copy of the CBGBs issue of Vive le Rock Magazine. The Snakes had a song on the cover CD!



The latest album by The Snakes :
THE LAST DAYS OF ROCK & ROLL.

8/10 Highly Recommended - Vive Le Rock
3 * - Q Magazine
8/10 - Americana UK


Released on the legendary Bucketfull of Brains label, the eclectic new album sees the band expanding on their established Alt-country repertoire from Stonesesque country swagger through soulful Celtic folk to the dirty rock & roll of Mott the Hoople and Mink Deville, sharing a bottle of bourbon with Tom Petty and Bob Dylan along the way.
THE LAST DAYS OF ROCK & ROLL is also the first Snakes album to feature a cover version, with the enigmatic 'The French Girl', a long lost gem discovered via Gene Clark.
THE LAST DAYS OF ROCK & ROLL...out now!
Available Now on CD & Download From
And Others,
Maybe Even Your Local Record Store?!
Downloads available from GOOGLE PLAY


ONLINE REVIEWS of the Last Days album :
Review from
Blabber and Smoke
Review from
Beat Surrender


GET THE SNAKES PHONE APP!
If you're looking at this website on a Smartphone, why not try the new Snakes App? It's got some of the info here but in a more phone friendly size, gigs, photos, videos, music. Find it at :
www.bandapp.com/thesnakes
RARE SNAKES RECORDING NOW ON SOUNDCLOUD
The recording the Snakes did for Never Records art project is now on Soundcloud. It's a cover of Never Going Back (John Stewart song covered by Lovin Spoonful).
Check it out :
http://soundcloud.com/thesnakesband