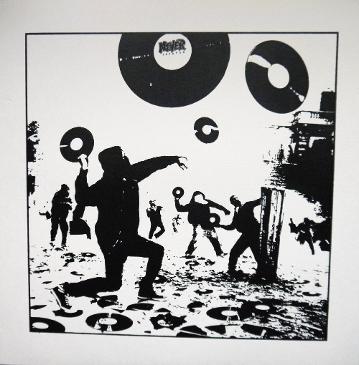 Never Records is part of an on going travelling art project by New York artist Ted Riederer.
Ted travels to a location, builds an installation that appears to be a 'record shop', filled with vinyl records, posters, flyers. People are invited to attend recording sessions, members of the public, musicians, poets, anyone with something to say. Ted immediately cuts the results onto vinyl, using professional acetate cutting equipment. Two 12" discs are made for each performance, one goes into the racks of Never Records as a permanent part of the shop, the other goes to the performer. None of the records are for sale, but people can play the records in the shop on turntables.

Never Records came to London in 2011 as part of the Merge Festival. The Snakes recorded the John Stewart song Never Going Back to Nashville (which they learnt from a Lovin Spoonful album).
The Never Records Shop was in Southwark Street near Borough Market. The event also included art work and T-shirts by Arturo Vega, the man behind The Ramones' iconic designs.
Arturo sadly passed away in June 2013. RIP.

Never Records continues to travel the world...